---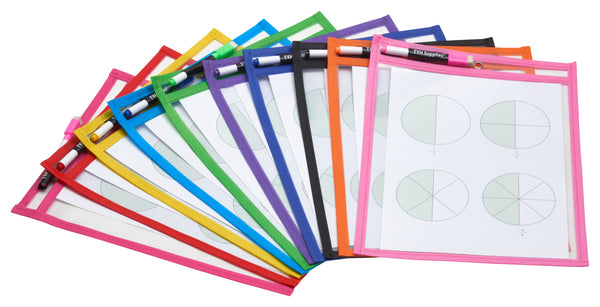 Set of 10 Super heavyweight clear erasable pocket, For papers up to 9 x 12"
Ideal for work stations - no need to replenish paper - just wipe away and start again
Write on and wipe off, Go green, Use over and over again, Use low-odor dry erase markers (included)
Environmentally conscious - oversize clear pockets turn every paper into a reusable write & wipe activity - just slip in your own activity masters
Ideal for ages 3+, Set includes 10 pockets [10 different colors] and 10 dry-erase markers with eraser tips, which store in the handy loop on the top of each product
These Reusable Dry Erase Pocket is a teacher's best friend for shop ticket holders. Simply insert a worksheet (or any sheet of paper) and use a dry erase marker to write on the pocket. When the lesson is completed, easily wipe the marker off the pocket and use again. The dry erase pockets work with all 8 1/2" x 11" paper. They are also economical because they eliminate the need to copy multiple worksheets over and over again saving you time, money and paper. Practice math problems, letters, writing skills and more with this super heavyweight pocket. This set Includes 10 Pockets [10 different colors] with 10 corresponding color's wipe-off marker with eraser tips.